Roadburn Announcement • 23 July 2014
Press release from Roadburn:
Ivar Bjørnson of Enslaved and Wardruna's Einar Kvitrafn Selvik To Curate Roadburn Festival 2015 (Special shows by Enslaved and Wardruna)
We're beyond thrilled to announce that Ivar Bjørnson of Enslaved and Wardruna's Einar Kvitrafn Selvik will curate the 20th edition of Roadburn Festival, on Friday, April 10, 2015 at the 013 venue in Tilburg, The Netherlands.
As curators, both Ivar and Einar will personally select the bands for their curated Roadburn event, named 'Houses of the Holistic', and play special shows with Enslaved and Wardruna respectively as well.
The Norwegian pair, both former Roadburn performers, have played an important role in bringing together the past, present and future sounds of hard rock, progressive metal, and alternative scenes, which makes them the ideal choice to carry on the tradition that began in 2008 with David Tibet of Current 93, and continued with Neurosis, Tom G. Warrior, Sunn 0))), Voivod, Jus Oborn of Electric Wizard and Mikael Åkerfeldt of Opeth.
One of the most hard-hitting and progressive bands to come out of Norway, Enslaved has drawn other musical genres and artistic expressions into the realm of metal, while being recognized for merging tradition and modernity in a unique blend of rock, prog and black metal, earning them Spellemann Awards (Norwegian Grammys) for much acclaimed and groundbreaking albums such as 'Isa', 'Ruun', and 'Vertebrae' among others.
Enslaved's performance, dubbed 'House of Northern Gods', will consist of a set list specially put together for 'Houses of the Holistic', featuring songs from the band's entire catalogue that embody the Norse gods, with accompanying visuals created by revered Romanian artist, Costin Chioreanu. Be prepared for a surprise or two, or even more.
Ivar Bjørnson comments: "To say that my dream as a kid was to one day curate the Roadburn Festival would perhaps be to take it a tad too far – but it isn't that far from the truth. There's some ridiculously big shoes to fill, but luckily negative pressure, idea draught and performance anxiety aren't something I'm into. It is my favourite festival in one of my favourite parts of the world; so this is nothing short of one the biggest honours I've been given! It is a privilege to undertake this challenge in twosome with Einar; an artist I truly feel in tune with artistically and philosophically – now it is all about hard work and dedication to ensure that the audience and the festival itself is given a Friday to enjoy, experience and remember. I for one can't wait!"
Winning the award for Best Underground Band at the 2014 Metal Hammer Golden Gods Awards, Wardruna has taken Einar Kvitrafn Selvik's musical visions out of the contemporary framework and back into the authentic sounds and instrumentation of ancient Northern Europe. Wardruna (featuring Gaahl and Lindy Fay Hella, alongside Einar) received rave reviews for their mesmerizing 2009 debut 'Gap Var Ginnunga' and equally exciting follow up, 'Yggdrasil', the first two albums in the planned 'Runaljod' trilogy that interprets the ancient runic alphabet of the Elder Futhark.
Wardruna's special 'Houses of the Holistic' performance will definitely add another dimension to the kaleidoscope of styles and sounds associated with Roadburn.
"It is such a great honour for me; to be awarded the responsibility of carrying out the traditional role of the Roadburn curator", says Einar Kvitrafn Selvik. "Doing it together with Ivar makes it even more special. Roadburn is in my opinion such a high-level music festival - all quality to the fingertips. It is also a festival where presenting high quality musical art is more important than anything else, such as genre distinctions and scene divisions. We will work hard to deliver a program that both explore territories one has come to expect at Roadburn, while at the same time continue to expand its boundaries into new sonic realms."
While the two curators' musical output differs instrumentally and stylistically, Bjørnson and Selvik have a common direction towards the primeval and undiluted, not only in their own artistic expressions but also in their taste for other music, which is ultimately what they wish to present at Roadburn 2015 during 'Houses of the Holistic'. We look forward to this collaboration and cannot wait to see how both Ivar and Einar will expand Roadburn Festival's musical horizons as well as explore more familiar territory from new angles. We will definitely be in for some artistic surprises, and Norway's Norse history, too!
Roadburn Festival 2015 will run for four days from Thursday, April 9 to Sunday, April 12 at the 013 venue in Tilburg, The Netherlands.
For more info, please visit: www.roadburn.com

Concert in Northern Norway • 5 July 2014
Wardruna will perform on the opening weekend of SALT, August 30th at Sandhornøy in Northern Norway.
"SALT begins its journey upon an Arctic beach on the mountainous island of Sandhornøya, south of Bodø, Northern Norway, 29th August 2014 until 6th September 2015. Here, at this remote location, surrounded by breath-taking nature, visitors can discover a place to engage the mind, body and soul.
SALT will over the coming years travel across the northernmost part of our planet, making a home in Greenland, Iceland, the Faroe Islands, Ireland, Scotland, Spitsbergen, Alaska and Russia. SALT is an ambitious and inspiring concept designed to stir the imagination. Like nothing that has come before, it will also leave no physical trace. SALT is an initiative for arts, culture and environment that will each year move to a new location in the Arctic. SALT uses the Arctic nature as a framework for strong arts and cultural experiences."
Visit salted.no for tickets and details on this very special project.

Skuggsjá • 16 June 2014
Enslaved and Wardruna will premiere a new comissioned work entitled "Skuggsjá" at Eidsivablot in September!
Press release from the organizer:
"This year we celebrate the 200 year anniversary of the Norwegian Constitution all over Norway. Norwegian metal has developed from rebellioninto a highly acclaimed artistic expression of a complex music genre under our constitutional right to freedom of speech and Saturday, September 13th, the anniversary will end at Eidsvoll. Eidsivablot will be an open-air all day event where we will honour Norways Norse history with ancient Norwegian sounds and music, true Norse extreme metal, photo exhibitions and guided tours to the viking graves.
Eidsivablot present: Skuggsjá - The sound of Norway's Norse history.
It is with great pleasure we present Skuggsjá. A commissioned work to be performed by Enslaved and Wardruna on September 13th 2014 at Eidsvoll, Norway.
The piece is written for the 200th anniversary of the Norwegian Constitution, and will be performed at Eidsivablot. Besides the performance of Skuggsjá there will also be full concerts by Enslaved and Wardruna.
Skuggsjá translates into mirror or reflection in the Norse language, and the piece is composed by Ivar Bjørnson and Einar Selvik. Selvik is known as the composer behind the Norse-folk band Wardruna, while Bjørnson is known as the composer of the acclaimed metal band Enslaved. Skuggsjá is a work that not only contextualizes the harder music's role in the democracy in Norway in 2014, but also pull threads from our ancient musical history and to the harder music's position as perhaps Norway`s most important cultural export.
By highlighting ideas, traditions and instruments of our Norse past, we will tell the history of Norway and reflect most relevant aspects from the past into our own present time. In light of this we will reflect on ourselves as a people and nation. In a magnificent tapestry of metal instrumentation and a wide variety of Norway and Scandinavia's oldest instruments, and poetry in Proto-Scandinavian, Norse and Norwegian, Skuggsjá will musically as well as lyrically be a fusion between past and present.
We are thrilled to see and hear two of the most genuine artists of Norway meet at Eidsvoll to premiere Skuggsjá. With our constitutional building as a backdrop, this will no doubt be a historic day."
Saturday, September 13th / 13:00–23:00. Tickets: 350,- NOK. 18 years age limit.
For tickets, news and program please visit Eidsivablot at:

Gap var Ginnunga Vinyl Reissue • 1 May 2014
The first pressing of 'Runaljod - gap var Ginnunga' has been sold out for a long time now, so today we're happy to announce that a reissue is imminent.
The album will be released by Indie Recordings on May 19th in Norway and Europe and will come in two formats: black double vinyl in gatefold sleeve and a limited double picture disc with the red Wardruna logo, also housed in a gatefold sleeve.
Preorder links: black vinyl and picture disc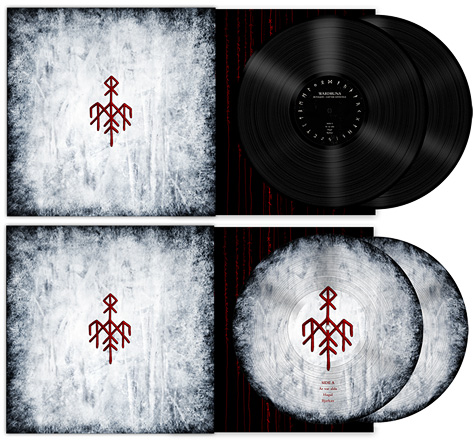 Otternes • 12 Apr. 2014
Wardruna will be performing at Otternes bygdetun in Flåm, Norway on the 17th of July. The concert is held during Gudvangen Viking market and is situated in the same area. Tickets are available now through Billettservice. More details and lots of pictures are available on the Facebook page for the event.
In other news, Wardruna have been nominated for Best Underground Band at this years Metal Hammer Golden Gods, which is taking place at the IndigO2 in London on 16th June. You know what to vote!

Castlefest • 15 Mar. 2014
We will be back at Castlefest this year! The festival takes place in Lisse (NL), August 1-3. Tickets and more info is available at the Castlefest website.
Video of 'Helvegen' recorded at Castlefest 2012:

Concert in Lithuania Confirmed • 13 Mar. 2014
Wardruna is confirmed to perform at the Kilkim Žaibu XV Festival in Varniai, Lithuania. The concert will take place on June 20. Check the festival website and Facebook page for tickets and more info.

Trondheim • 11 Mar. 2014
Wardruna will perform in Djupvika in Trondheim on June 19th. The concert is part of the annual Trondheim Viking Market and tickets are available now through Aftermath Music.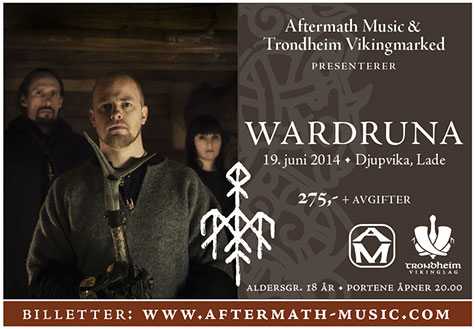 Vikings Season 2 • 26 Feb. 2014
With the premiere of Vikings - season 2 just around the corner it is a great pleasure to announce that the Norse sounds of Wardruna will be present this season as well. In addition to the use of Wardruna songs, I'm also taking part in the actual score for the series and I have been collaborating with the award winning Vikings composer Trevor Morris since the autumn of 2013. I would like to use this opportunity to express my gratitude to the Vikings production and to Trevor Morris for welcoming me and Wardruna more into the heart of the show this season.
Einar

Blastfest 2014 • 12 Jan. 2014
Wardruna is very pleased to announce that they will perform at Blastfest in Bergen, Norway. Wardruna's concert will be on Saturday, February 22nd. Kvitrafn will also do a workshop at Blastfest talking about his approach to making music as well as demonstrating a selection of the oldest Nordic instruments.
Tickets and more information is available at the Blastfest website.

Tour Recap • 19 Nov. 2013
On behalf of myself and the rest of the live constellation of Wardruna, I would like to sincerely thank all the people that came to our recent concerts in Nøtterøy, Oslo, London, Tilburg, Rennes, Paris and Helsinki. The turnout of people was overwhelming, as was the manner in which we were received. Your support is truly inspiring for the work to come and I hope you will welcome us again in the future.
Kvitrafn
Here's a few online reviews of the concert in London from The Quietus, Ghostcult Magazine and Louder Than War.
And pictures from Helsinki, Tilburg, London and Oslo.

Eight Secrets Rune Pendant • 15 Sep. 2013
A new rune pendant is finally available in the shop! The 'Eight Secrets' rune pendant was designed by Kvitrafn and produced by hand in Denmark. Available in sterling silver and bronze. It is carved with samstav runes holding the eight skills that is needed to master the runes and their esoteric secrets, as stated in Hávamál (144):
Rísta - ráða
Fá - freista
Biðja - blóta
Senda - sóa

New Concerts Confirmed • 5 Sep. 2013
We are very pleased to announce that two new concerts have been added to our European mini-tour this autumn:
October 17: Nøtterøy kulturhus, Nøtterøy (Near Tønsberg), Norway - Tickets
October 26: Liberte L'Etage, Rennes, France - Tickets

Finland • 31 Aug. 2013
Wardruna will finally come to Finland this autumn. The concert will be at the Savoy-teatteri in Helsinki on November 4th. Tickets available now.

Concert in France Confirmed • 11 Jul. 2013
A show in Paris on October 27th at Divan du Monde has been added to Wardruna's European mini-tour this autumn. This will be Wardruna's first concert in France! Tickets available now here and here.

Special Concert at Bjørgvin marknad • 21 May 2013
Bjørgvin marknad viking and medieval festival celebrates their 10th anniversary with Wardruna live in concert on Friday 31 May at 23:00 on Hordamuseet. Tickets.

Oslo Concert • 6 May 2013
As part of an exclusive European tour Wardruna will perform live on Riksscenen in Oslo on October 18. Tickets are available now.

New Merchandise • 30 Apr. 2013
A new Wardruna T-shirt is now available in the shop. The previous shirt with the logo/bindrune design has been reprinted and is also available.
We are also expecting to have zip hoodies (with different design) in the near future.

October Concert in Tilburg Confirmed • 2 Apr. 2013
It delights me to announce that on Friday the 25th of October 2013 Wardruna will return to The Netherlands to perform in the main hall of the 013 venue in Tilburg.
Tickets can be bought here: www.013.nl/event/4369_wardruna
Kvitrafn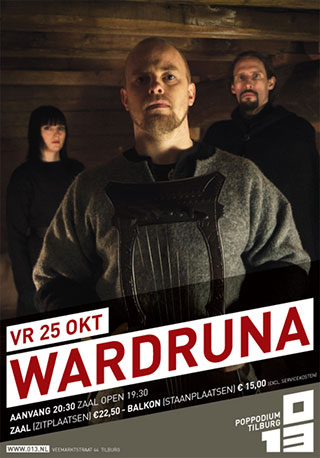 Wardruna Live at Queen Elizabeth Hall • 22 Mar. 2013
Wardruna will play live in the UK for the first time at the Queen Elizabeth Hall in London on Thursday 24th October. Tickets are available now. Read the full press release below for all details.
Kilimanjaro by arrangement with Mythology Agency presents
WARDRUNA LIVE IN CONCERT WITH SPECIAL GUESTS STEINDÓR ANDERSEN AND HILMAR ÖRN HILMARSSON
Queen Elizabeth Hall, Thursday 24th October 2013
As the northern hemisphere emerges from Winter's bleak grip at the passing of the Spring Equinox we are greeted with news that this Autumn Norwegian folk band Wardruna will play live in the UK for the first time.
With the use of the oldest of Nordic instruments and poetic metres as well as lyrics sung in Norwegian, Old Norse and Proto-Norse tongue, Wardruna has since the debut in 2009 enchanted fans and critics alike with their mesmerizing recordings and spectacular concerts. None more so than their spellbinding performance in front of the majestic 1100-year-old Gokstad ship at the Viking Ship Museum in Norway.
Their recently released second album "Yggdrasil" has continued to garner the band excellent reviews and an ever-growing audience.
Wardruna primarily use old and historical instruments such as deer-hide frame drums, Kraviklyra, tagelharpe, mouth harp, goat horn, lur and more. Non-traditional instruments and other sources of sound like trees, rocks, water and torches are also used.
All of these elements are carefully woven into a rich musical landscape and complemented with whispering voices, melodic song and mighty choirs. Although Wardruna's music share characteristics with music typically labeled as folk, world and/or ambient, none of these genres can really describe their unique style. It truly must be experienced. Even more so in the magnificent setting of the Queen Elizabeth Hall.
"I'm very glad to finally be performing in the UK and that one of the finest concert halls in England will house Wardruna. It has always been very important to me that our concerts are made within the right aesthetic conditions, where the places we play and our musical expression complement each other. Then we are in a much better position to create special moments both for us and for the audience." (Einar Kvitrafn Selvik - Wardruna)
"Powerful atmospheres that smell of old wood and dense forests with a sound that is like nothing you have ever heard before." (The Quietus - United Kingdom)
With very special guests Steindór Andersen and Hilmar Örn Hilmarsson:
For over two decades Steindór Andersen and Hilmar Örn Hilmarsson has been exploring the old Icelandic tradition of "Rímur chanting" which has its roots in Viking music and poetry. Last year the duo released their latest effort "Stafnbúi". Steindór, the most distinguished Icelandic chanter of rímur, performs twelve of his favourite poems on this recording, accompanied by the mystical and haunting music of Hilmar Örn, award winning film composer and a prominent figure in the Icelandic music scene since the eighties.
Their work with the group Sigur Rós has received great acclaim and two Nordic Council Music Prize nominations. April 2002 saw the premiere of the large orchestral and choral piece, "Odin's Raven Magic", which they performed at the Barbican Centre with the London Sinfonietta and The Sixteen. In recent years Steindór and Hilmar have travelled widely with an ever changing rímur repertoire, which they usually perform with a local string quartet and sometimes local folk instrumentalists.
Tickets: www.kililive.com/artists/wardruna
www.southbankcentre.co.uk
www.wardruna.com

'Yggdrasil' Preview Video Part 3 • 14 Mar. 2013
Third and final Yggdrasil preview video.

'Helvegen' Live Video • 8 Mar. 2013
Check out this video of Wardruna performing 'Helvegen' from their upcoming 'Yggdrasil' album for the first time at Castlefest in Lisse, Netherlands on August 2, 2012.

Vikings • 7 Mar. 2013
We are pleased to announce that music from both 'Gap var Ginnuga' and the soon-to-be-released 'Yggdrasil' album will be featured in several episodes of History Channel's newest series, 'Vikings'. It is a historical drama series inspired by the sagas of Viking King Ragnar Lodbrok, created and written by Michael Hirst (Elizabeth, The Tudors). The first episode premiered on March 3, new episodes will air on the History Channel on Sundays in the US and on HBO Nordic on Mondays in Scandinavia.

'Yggdrasil' Preview Video Part 2 • 1 Mar. 2013
Includes listening samples of 'AnsuR', 'IwaR' and 'IngwaR', as well as comments from Kvitrafn and Gaahl.
'Yggdrasil' can now be pre-ordered in our own shop.

'Fehu' Single Released • 22 Feb. 2013
The song 'Fehu' from our new album 'Runaljod – Yggdrasil' is now available as digital download in our shop. It is also available (or will be soon) through most major digital music stores and services like iTunes, Spotify etc.
Available now in our online shop



'Yggdrasil' Formats and Pre-order Info • 22 Feb. 2013
'Yggdrasil' will, as previously announced, be released on March 15 in Norway, March 25 in Europe and April 2 in North America.
It will be available as regular jewel case CD and as digibook CD with an exclusive 32 page booklet with unabridged lyrics (and translations), expanded liner notes and more illustrations. Vinyl version will be available through Back On Black.
The digibook version will also be sold together with a limited edition necklace as a package. This package will only be available through our own shop and the Indie Recordings US store.
We will begin taking pre-orders on March 1 in our own shop.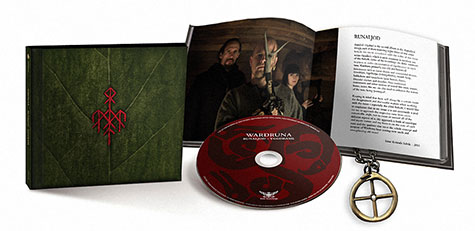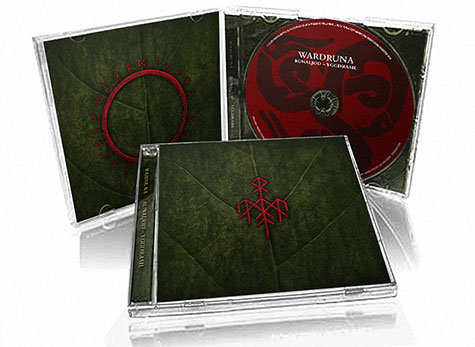 'Yggdrasil' Preview Video Part 1 • 14 Feb. 2013
Listening samples of the first four tracks of 'Yggdrasil'. Includes comments from Kvitrafn and Gaahl.

'Yggdrasil' Track Listing, Release Dates and Cover • 8 Feb. 2013
We're excited to announce that our new album 'Runaljod – Yggdrasil' will be released by Indie Recordings on March 15 in Norway, March 25 in Europe and April 2 in North America.
Track listing:
1. Rotlaust tre fell
2. Fehu
3. NaudiR
4. EhwaR
5. AnsuR
6. IwaR
7. IngwaR
8. Gibu
9. Solringen
10. Sowelu
11. Helvegen
Total running time: 66:14
'Yggdrasil' will be available as regular jewel case CD and as digibook CD with an exclusive 32 page booklet. Vinyl version will be available through Back On Black. The digibook version will also be sold together with a limited edition necklace as a package. More details to follow.